"The World, the Word & the Rock" Matthew 28:19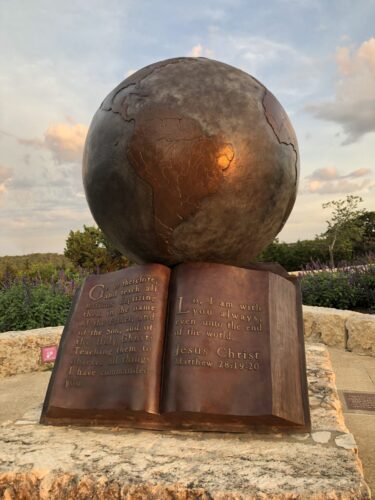 Signed and Numbered Edition 5' x 4' x 6' (600 lbs.)
"The Great Commission"® is the creation of artist/evangelist Max Greiner, Jr. of Kerrville, TX. This bronze Signed & Numbered Edition sculpture was donated to THE COMING KING FOUNDATION by Max and Sherry Greiner, for the glory of God.
This sculpture depicts the World, the Word and the Rock. Jesus Christ is the Word and the Rock who created the World. This composition communicates the importance of world evangelism and the Bible. The scriptures inscribed on the Bible pages communicate the essence of the Gospel (John 3:16), Christ's invitation to make disciples (Matthew 28), and the permanence of God's Word (Matthew 24:35).
God commissioned "The Great Commission"® on January 15, 1996, when James A. Johnson called Greiner to commission him to do a bronze globe for his company. As the two prayed over the phone, the Holy Spirit instantly gave Max a new design. He saw the world resting on the Bible. Johnson loved the idea. However, the artist refused to accept the lucrative commission until he prayed more about it. Max needed a confirmation that the idea really was from God.
On February 6, 1996, three weeks later, Greiner was praying about the possible commission as he stood in his exhibit booth at the National Religious Broadcasters convention in Indianapolis, IN. At that exact moment, a total stranger walked up to Greiner and said, 
"If you had a Bronze of a globe with a Bible, I'd buy that!"
 This was the confirmation Max needed to begin work. The stranger who delivered God's message to the artist was Dr. David Watson, Pastor of Central Assembly of God Church in Springfield, MO.
herefore go and make disciples of all the nations, baptizing them in the name of the Father and of the Son and of the Holy Spirit, and teaching them to obey everything I have commanded you, And surely I am with you always, even to the very end of the age.
Matthew 28:19-20