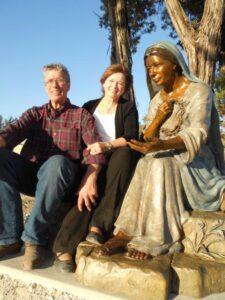 Beverly and Monte Paddleford own EAGLE BRONZE in Lander, WY, which is one of the largest art foundries in the USA. It has cast hundreds of monumental sculptures which have been placed around the world. Beverly's subject matter includes Christian, figurative, and wildlife. Her most famous sculpture is called "Hope ™". It depicts Jesus Christ holding an infant in His arms as He sits next to a young mother. This composition speaks poignantly to parents who have lost children in death or abortion. Beverly's sculptures are available in a variety of sizes. For more information on Beverly's art visit her website: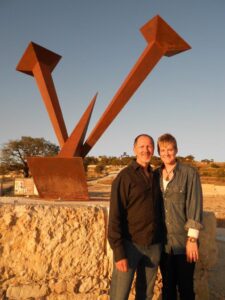 Hi there, my name is David Broussard and I am an artist and sculptor in Canton, Texas. I use carbon steel and a blow torch to make what some people have called the world's most beautiful crosses, jewelry, and sculptures. I began creating these works of art in 2000 after enrolling in a 24-hour welding course. Over the years with much prayer and guidance, I am now able to use my gift to glorify God across the globe. To see some of my work please visit my website.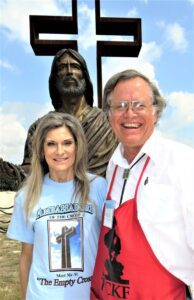 Artist, Max Greiner, Jr. is somewhat a rarity today.  He is a "Renaissance Man" in that he has achieved professional success in a variety of creative disciples.  Most Artists limit themselves to only one or two areas of concentration during their lifetime.  However, Max's creative areas have included: drawing, painting, sculpture, product design, graphic design, photography, writing, architecture and landscape architecture.  He has worked in most mediums and styles, including Realism, Impressionism, Expressionism, "Kitsch" Surrealism and Pop Art.  However, the vast majority of his life's work has been Representational.
Greiner's art is collected in all 50 states and in over 24 countries.  His work is in the collections of Popes, Presidents, Governors, Captains of business and sports, music and TV stars. Max's artwork has helped raise millions of dollars for charities, Christian colleges and ministries.
In the mid eighties, Max and his artwork underwent a dramatic transition as a result of several supernatural encounters with God.  Today, Max's art is focused on the Creator, not just His creation.  Greiner now uses his God-given gifts, talents and abilities to lift up Jesus Christ before the world.