As Jesus was walking beside the Sea of Galilee, he saw two brothers, Simon called Peter, and his brother, Andrew. They were casting a net into the lake, for they were fishermen. "Come and follow me," Jesus said, "and I will make you fishers of men." At once they left their nets and followed Him.
Matthew 4:18-20
"Fisher Of Men"® is a 105% life-size Bronze sculpture by Max Greiner, Jr. of Kerrville, TX. This sculpture was donated to THE COMING KING FOUNDATION on 11/9/12 for the glory of God by Max and his wife, Sherry.
This sculpture depicts Jesus Christ at the Sea of Galilee calling Andrew and Simon Peter to follow Him to become fishers of men. Jesus is holding out a cast net, a visual symbol of the call. Christ is waiting on an answer to the timeless question which all must answer.
Greiner depicted Jesus symbolically rising out of the Jewish nation of Israel. The base of the bronze Sculpture is the six pointed Star Of David. In the points of the star are the visual symbols of Christ's authority: the Menorah, the Lamb, the Lion, the Vine and the Alpha and Omega.
The face of Christ is the result of prayer and reference to the oldest known authentic drawing of Jesus by a first century Christian. This ancient drawing was scratched into the wall of the catacombs of Rome. The sketch depicts Jesus with shoulder length hair, parted in the middle, a mustache, a light beard and a long narrow face. Many Christians over the years have told the artist that his depiction of Christ looks like the Jesus they serve.
God commissioned "Fisher Of Men"® in February of 1994. At the time Greiner was waiting for God to speak to him about creating his second Christian sculpture, following "Divine Servant"®. A man, Jim Grassi, came up to the artist at an art show. He told Max his next sculpture was to be of Jesus in a fishing situation. This prophetic word confirmed Max's earlier thoughts. The sculpture took about a year to create.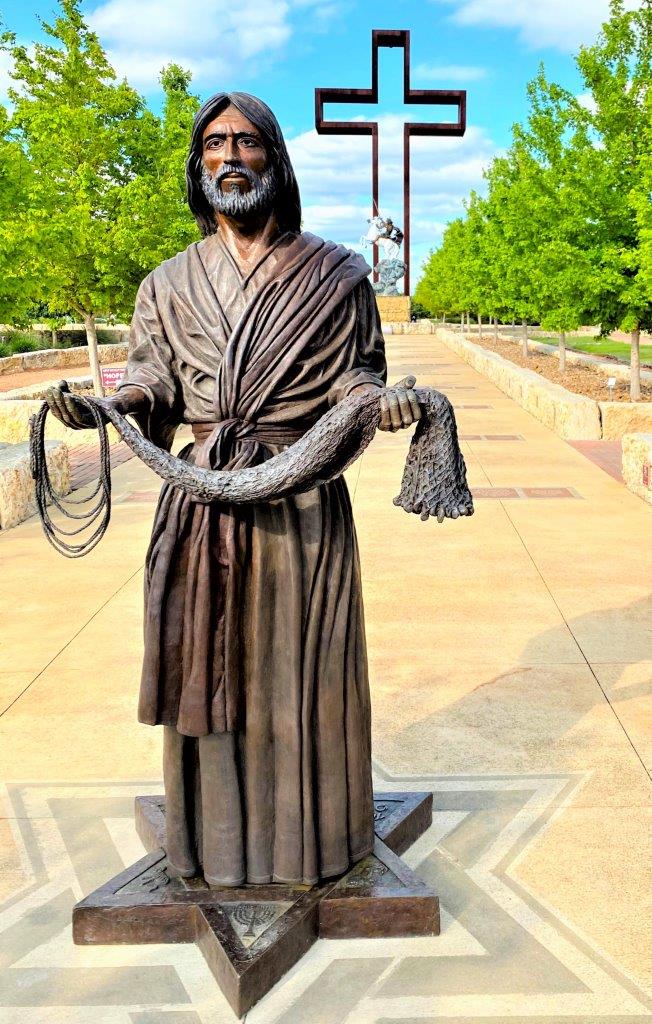 Bust Bronze Sculpture Signed & Numbered Edition 9′ x 5'8" x 8'2" (1,550 lbs.)