"Behold, the virgin shall be with child, and bear a Son, and they shall call His name Immanuel," which is translated, "God with us."
MATTHEW 1:23
"Mary, Mother Of Jesus" ™ is a life-size bronze sculpture by Beverly Paddleford of Lander, WY. The monumental sculpture depicts Mary in her later years as she clutches the crown of thorns to her chest, reflecting on the crucifixion of Jesus. The sculpture is designed so that a person can sit next to Mary, if they wish, and become part of the sculpture. Beverly and Monte Paddleford own EAGLE BRONZE in Lander, WY, which is one of the largest art foundries in the USA. It has cast hundreds of monumental sculptures which have been placed around the world. Beverly's subject matter includes Christian, figurative, and wildlife. Her most famous sculpture is called "Hope ™". It depicts Jesus Christ holding an infant in His arms as He sits next to a young mother. This composition speaks poignantly to parents who have lost children in death or abortion. Beverly's sculptures are available in a variety of sizes.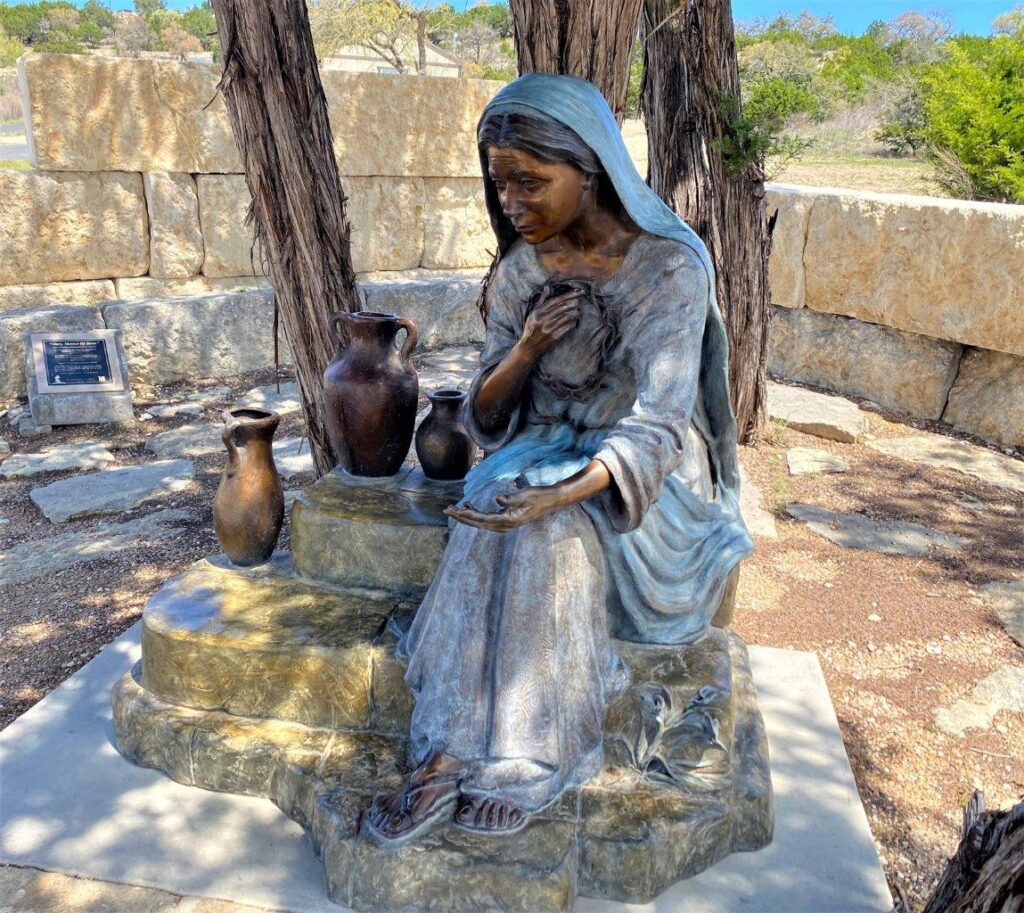 Bronze Sculpture Signed & Numbered Edition 3′ 10" x 4′ 8" x 4′ 7" (800 lbs.)
25 Jesus' mother stood near his cross. Her sister was also standing there with Mary the wife of Clopas, and Mary Magdalene. 26 Jesus saw his mother. He also saw the follower he loved very much standing there. He said to his mother, "Dear woman, here is your son." 27 Then he said to the follower, "Here is your mother." So after that, this follower took Jesus' mother to live in his home. John 19:25
 This beautiful sculpture was donated to THE COMING KING FOUNDATION by Beverly and her husband, Monte, for the glory of God on 11/9/12.
For more information on Beverly's art visit her website:
Jesus said unto him, "It is as you said. Nevertheless, I say unto you, hereafter you will see the Son of Man sitting at the right hand of the Power, and coming on the clouds of heaven."

MATTHEW 26:64